(this one is a little long guys!)
ok.. this giant pumpkin was pretty much given to me by a very nice man not too far from here who was selling pumpkins and gourds in his yard. I bought a ton of pumpkins and gourds and he hardly charged me, in fact he was so cheap I went back to get this big boy! but it was sooooo pale and squashy colored that I didnt like the way it looked in my yard.. then I thought..."PAINT IT!!" so, i painted it orange with gold, yellow and red and then put a face on it! now you cant even tell that it was that ugly orange before hand!!
And, look at these beautiful trees! I do LOVE fall, I just wish it didnt have to turn into winter.. so, for now, I have to enjoy the awesome colors and try not to think about the snow!
sooo pretty!!
This past sunday I got together with the oh so funny natalea! we went to breakfast at the cracker barrel, and then to the Clarence flea market.. well, that flea market was pretty blah.. I dont know how some people find such great things.. I dont usually find anything and sunday was no exception.. nat didnt buy anything there and I bought 3 pocket watch cases.. thats it! so we headed to Michaels.. that was fun! and then to tim hortons for an ice tea while we waited for buffalo stamps to open. there we hit the jackpot. they have the most wonderful scrapping supplies!! I do think that Natalie posted that this is her new favorite place in the world!! It was so nice to hang out with natalea for the day! we are looking forward to doing it again before the snow flys!
Isnt natalea adorable.. she didnt want to miss a thing in that store.. see her on her hands and knees????
OK.... now.. on.. to ... the....
HALLOWEEN BALL GUEST LIST!
OMG GIRLS! THE DOLLS ARE WONDERFUL. I'm always soo impressed! I have to show you the pics I've collected so far. At this point Im missing only 4. and I' will post them as they come in. I just cant wait any longer.. im too excieted.
This first doll, I recieved all the way from TASMANIA! ANd I have to say I am sooooo tickled by her. She is the most awesome little girl. She was created by Grace Garton at littleartycraftycrow. I was in one of Graces swaps too and recieved the most awesome little elephant too.. but I'll wait til later to show him to you! I do have to tell you that Grace is extremely talented! EXTREMELY!! i love this dolly!
This next pumpkin head girl was created by the marvelous CAtie Ann. Catie Ann has done most of the swaps I've hosted and she is SO CLEVER AND CREATIVE!! I'm so glad she always joins and I'm sure her partners are too. the little pumkins on caties doll light up! This little girl is really ready for the halloween ball!!
Then theres this incredible little witch girl designed and made by another INCREDIBLE gal... Jillian . Jillian is another one I can count on in my doll swaps! I have one of her dolls and its one of my favorites! Jillians dolls are always so bright and happy as is her little party witch! so darn cute she is!!
And OMG!! look at this little black feline dressed and ready to dance the night away ! IS she not just the cutest thing?? I want her.
Nancy
of dogpatchcritters, made her. Nancy makes the most awesome little dogs and cats! you have to check out her blog! thanks for joining nance!
and heres the two together, nancy and jillian were partners!
This wonderful creation was made by the sweet Annie Oakley! this was her first doll swap and I am sooo impressed with her doll, as is her partner i'm sure! Look at how stinking cute she is all dressed for the ball! I LOVE her! Her little expression is perfect! wonderful work annie! annies an undertaker ! she has a great blog about her life as an undertaker.. you should go there!! divaundertaker I'm so glad you joined Annie!
this adorable doll was made by Michelle G. Michelle doesnt have a blog, but comes to play and visit in blogland anyways! We have to get this girl rolling on a blog site of her own!! anyways.. LOOK at this sweet doll! Michelle lives in australia and was one of my partners! (I had two) I havent recieved this doll yet, but I know shes on her way and I cant wait to see her. Michelle you did a GREAT job! and I love her!
This sweet little witch was made by the very talented Cindy! Cindy is so enthusiastic about doing these doll swaps! And she makes such beautiful dolls! Whoever has had her for a partner has been very lucky! We're planning to do a swap of our own one of these days soon! Right Cindy?!
And this beauty, definitely dressed for the ball, was made by Amelia. AMelia is an awesome artist and has made some marvelous halloweenies! you need to check out her blog! Also for some reason she is a candy expert! and she has some monthly candy contest! She was my partner in the pinkeep swap and she made me a the SWEETEST little pinkeep ever!
anyways.. her partner is very lucky as this doll is awesome!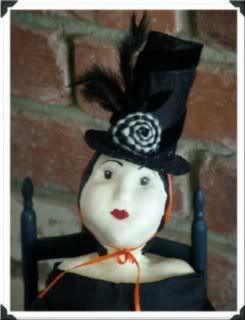 This perfectly precious pumpkin head was made by one of my newer blog friends RAndi! I am so impressed by this guy!!
Randi is another really CREATIVE artist.. I just cant get over all the talent out here!! I wish I could see all these dolls in person! I'm so glad you joined Randi!
Ok.. now check out this sweet doll!!! made by another Michelle from gingham world! Michelle makes the cutest dolls! this
one is SO ADORABLE!! I love her! and I love her little black kitty pillow! You should definitely check out Michelles blog too and see some of the sweeties she creates! by the way, i love your new banner michelle!!
this darling halloween bear was made by my friend Lori V. She is an awesome teddy bear artist! I am also lucky to have one of her creations from a past swap! this little witch went to cindy! oh so cute!!
these last two dolls are the two I made.. the pumkin head went to GRace in TASMANIA! and the other to Michelle in Australia! Now does every body know that Tasmania is part of australia, or an island off of australia? My daughter keeps saying she thought it was a fictional place on bugs bunny... (she didnt really think that just likes to keep saying it!)
So that is all the pictures i have collected this far. I'm still waiting for pictures from Emily, Tanya and Carla.. and I cant wait to see what wonderful dolls they created and I also cant wait any longer to post this entry! so as soon as I get their pics, I'll be sure to post them. Actually, Carlas partner hasnt seen hers yet as she is on vacation. I do know she is excieted to get home and open it!
so thats all for now folks.. I have some needle felting to work on now! stay tuned for new pics!