Well its been a while, but I'm finally uploading and posting the pictures that I have from the awesome pinkeep swap! This was a fun swap and everyone of the girls told me how much they enjoyed it! thank you so much for "playing" girls. I just love seeing what everyone comes up with. Everyone was SO absolutely creative! I had two partners, and they made the sweetest pieces! I know they made them special for me! And I appreciate it soo much.. When my daughter moves out, her room will become my craft studio and then I will have a place to display my sweet pinkeeps! thanks to my partners for the other sweet things they sent me as well!
So on with the show!
This first pinkeep was made for me by the awesome Sherry! I adore it!!
This one was made for me also, but the equally as awesome Amelia.. for some reason both amelia and Sherrie have taken to me! They have both become great blogland girlfriends! and I'm so glad!
These youve already seen, if you follow my blog. I made these for my partners, the blue one went to Amelia and the cranberry and green one went to Sherrie. The one in the middle was my giveaway that went to the also very talented Susie Scott.
I dont know if I posted this picture or not.. I probably did, but this pinkeep I made to go into my vacation in a box swap and it went to Ele.. she loved it. I do think this is my favorite of the ones that I made.
this following piece was made by another sweet blogland friend Jillian.. and it went to Gina. both of these girls are so talented.. I've had the priviledge of swapping with both of them! Talent oozes out of both of them! (well, really out of everyone of these girls!!)
This is the sweet sweet little baby shoe pinkeep gina made for Jillian... What did I tell ya? sweet or what?? (I love that little birdie on the back!)
Now look at this gorgeous piece made by the fabulous Sandy! Sandy you and I need to do a swap I think! this is adorable! Sandys piece went to Cindy. how lucky was she??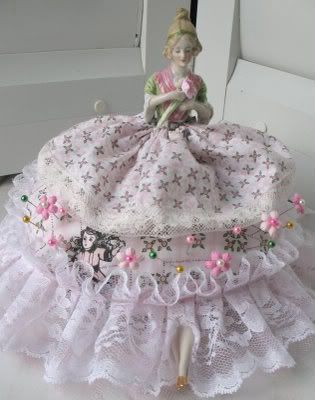 the also very creative and talented Cindy made this pinkeep for sandy! Both are amazing!!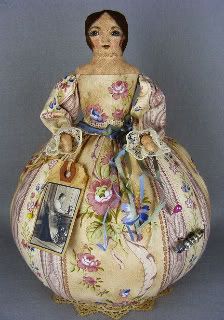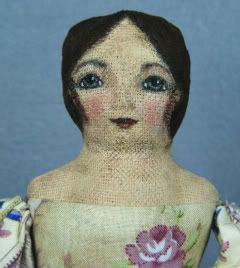 Then theres one of my favorite girls of all time.. Barbara.. and she made this awesome cone pinkeep with the sweet little vignette on the base! (look at the bear.. looks like this one should go to me doesnt it!) heres pictures of the front then the back! dont ya just love it? (dont ya just love everyone of them??????!!!!!) We havent heard from Barbs partner yet. but we are eagerly anticipating something wonderful from susan! ( I think she up and left us to go on vacation!! lucky her!! hope shes at the beach somewhere!)
This very awesome pinkeep was made by Kathy for her partner Carol. I have to tell you, I adore this pinkeep. I'm just amazed at the things you girls came up with! And I have to say, everyone is into pinkeeps right now.. they are all over flickr and blogland! (now all of ours are too!)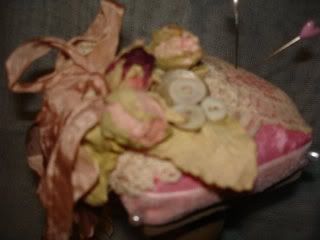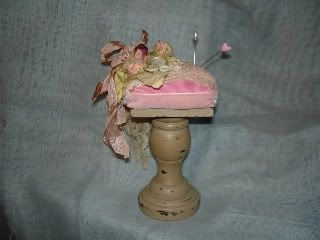 This very sweet flower pinkeep was made by Carol for Kathy! I love it! ( I love them all really!) and notice the little strawberry piece with it! I'm so glad you joined Carol!!
this next little pinkeep was made by the really fabulous doll artist Fran! (her dolls are exceptional!)
Her piece went to the very lucky Catie ann. I love the colors in this one!
And last but not least! Is a wonderful pinkeep by Catie ann which was sent to Fran! i love how she put the heart on a candle stick holder. Actually I think there were a few done like that! I have to tell you that Catie Ann is one of the most kind hearted people I know! and I seriously mean that!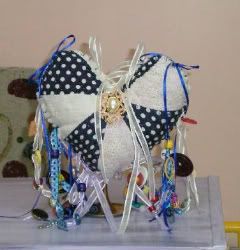 Girls thanks so much for joining the swap! I seem to have a very faithful little group! I'm glad that you all enjoy the swaps! There are a couple more that I havent recieved pics of, but as soon as I do, I'll post them!
If you guys have any ideas for a swap you want me to host, let me know. I'm thinking we should do something for christmas! last year was the snowman ornament swap.. give me some ideas... I have a couple of my own, but Id love to hear your thoughts!
OK.. i've got some projects to work on.. I'm not making dinner tonight, I really havent felt very good the last couple days.. If I do get hungry later, I'll have a bowl of ice cream, or popcorn.. or maybe even both!!! sounds like a good dinner to me. see I can get away with it now, because Ihave no children that I am totally responsible for feeding! and because my hubby isnt home tonight!
Jen and i had talked about going to see the musical beauty and the beast at ARTPARK tonight, but I really dont feel good enough to go so I shall stay home and work on a project!!
Hope you enjoyed seeing the pinkeeps! have a sweet night!