Finally I'm getting a chance to upload all the pictures from the snowman swap. its taken awhile to collect all the pictures and I'm still missing two I think... so if they are yours email them over and I'll post them here!
We are having quite a wind storm here, so I'm praying we dont lose power!!! I have 9 teddy bears to finish today for an order and am going to be needing lots of light! (I'll post pics later!)
Ok. so on this years

snowmen

... first of all, thank you to all you
talented girls
who joined in the second annual snowman ornament swap!! I love hosting the swaps and you girls make them so much fun for me!
I also had done a couple 1:1 snowman swaps at the same time so those are included here as are also a couple of special gifts I recieved from some very special flickr and blogger friends!
This first awesome snowman is bipolar.. he has two faces! He was made for me by AMelia of sweet Bs! I adore him.
This ornie was made by one of my snowman swap partners, Jolene! thank you jolene! This was jolenes first swap and she did a great job! I have this hanging in a place of honor on my tree!
This was a gift from the sweet Debb! thank you so much Debb, he is hanging on my calander! so sweet of Debb to send me a sweet piece of her art work! I love him!
This adorable little snowfriend was made by my other snowman swap partner, Cassandra! is he not the cutest little snow soul??? I LOVE him! thank you cassandra. You may know Cassandra as HeyJupiter on flickr.
She is know for the gorgeous mermaid art she does.. and along with her snowguy, she sent me a little piece of her mermaid art!! how lucky for me!! I love it!
This sweet snowfriend, was a gift from FLora, I am in awe of her art work and she is a kind hearted person who wanted me to have a piece of her work!! Im telling ya, I am so blessed with awesome friends out here in blog land (and in person too!!) Is this not the cutest ??? thank you too flora!
Another friend I swapped with, Jenny, of be cherry... can you believe your eyes?? how stinking cute is this! I love ya Jenny!! and your little snowman too!
ANd are the rest of the wonderful art work you all did! This one is by Melissa and went to Michelle~ I know Michelle was thrilled with this! HOw cute!! thanks for being in the swap Melissa!
This batch of goodies went to Annie from Debra Schoch. Annie was overjoyed by the wonderful things she recieved! It was Annies first swap! Debra of Hophopjingleboo always does amazing work and send great things in her swaps! thank for joining Debra and Annie!
and this is the wonderful creative snowperson that annie made for Debra! Isnt she adorable!! I love her annie! I'm trying to figure out how you did her face!?
These snowfriends were made by Debb and went to Kai! are they adorable or what!! Debb is a faithful swapper and blogger pal. She loves to create and share she work with others! Actually the same can be said about Kai, who was her partner!
This is the piece Kai did for DEbb, again .. adorable! And I just have to tell you all, that I have a special place in my heart for Kai! She's special!
These next three pictures are of the swap pieces that Cindy did for kathy... This was Cindys first swap too.. she did a great job. I know Kathy was so happy to recieve the great things she sent her. Cindy made most of these things, including the wonderful calender.. She is obviously extremely talented!
Ok.. now bare with me here, because I am a little confused about some of these pictures and might not have it straight as to who made what!! I do believe that Alison made this things.. (and please please forgive me if I'm wrong and let me know right away so I can correct my mistake!) How sweet is this little package of snowfriends! Iwish I had a better picture so we could see them all closer! Thank you so much Alison for joining the swap! Alisons creations went to Courtney!
And Courtney, did this fancy needle work for alison! Isnt this adorable! I love it! Thank you soo much for joining the swap girls! And , courtney, thanks again for the awesome snowman earrings you sent me!! I've been wearing them!!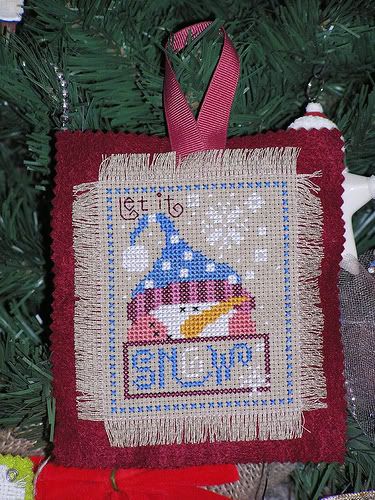 This sweet snowman in the box was created by Peggy! and the second picture shows the top of the box! Adorable and creative! Peggys piece went to Sarah. Love that little cardinal on the snowmans head!
Here is the cute piece that sweet sarah made for Peggy! Sarah is another faithful joiner of my swaps! What a great little snow scene! Again thanks to both girls for joining! (oh, and sorry about the differences in the sizes of some of the pictures, I dont know why medium is not alway medium!)
Heres another faithful swapper pal! This awesomely sweet little snowfriend was made by the awesomely sweet Jillian and it went to my friend Barb! How lucky Barb is! isnt this the sweetest??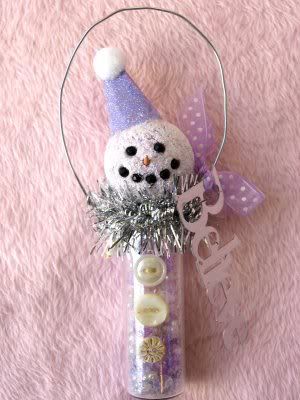 And here is the great piece that Barbara did for Jillian! (Love ya barb..) Great Swap girls!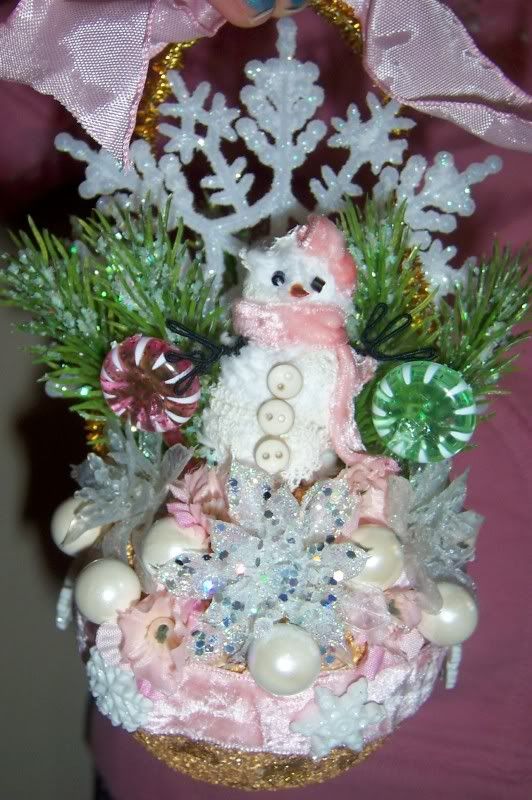 These next two pictures are of the swap items that Kathy sent to Cindy! Arent they ADORABLE!! I love that snowcone guy!! I'm so glad you joined again Kathy! Love the things you make!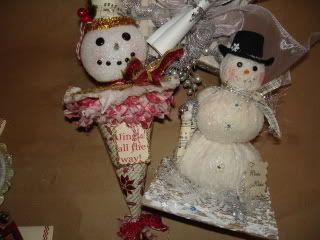 The next two pics are from Marcel (Aunt pittypat!) She is a swapper queen! How handsome he snowman is! She certainly sent a package of goodies too! Her package went to Sandy. love the snowman and thanks for joining Marcel!!
And, this is the swap items that Sandy sent ot Marcel. I can hardly stand the cutenest! I love the fluffy pink hat on her snowgirl head! Thanks for joining the swap girls!!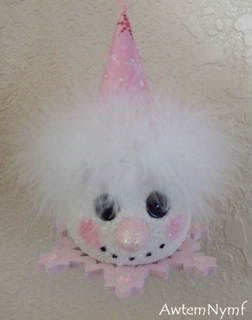 OK. heres where I might be a little confused again! I do believe that the very talented Fran made these pieces for her partner Amelia! Arent thye cute!!?? Fran is another faithful swap follower of mine! thanks fran!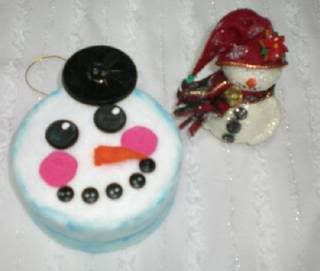 Here is the sweet piece that Amelia made for FRan! how wonderful is this? You guys are all so talented!
This little sweetie was made by Leslie! dontcha just love it?? how adorable. This one went to Maria! I know she had to have been thrilled to recieve it!
This wintery snowman was made by vivlyn.. isnt he adorable ! Ilove his little jinglebells and that that he is standing on the snowflake. how cute! thanks Vivlyn for joining the swap! Vivlyns snowman went to the lucky carla!
And these babies are the ones the creative Carla made for vivlyn! How about that little baby snowman?? Cute cute cute!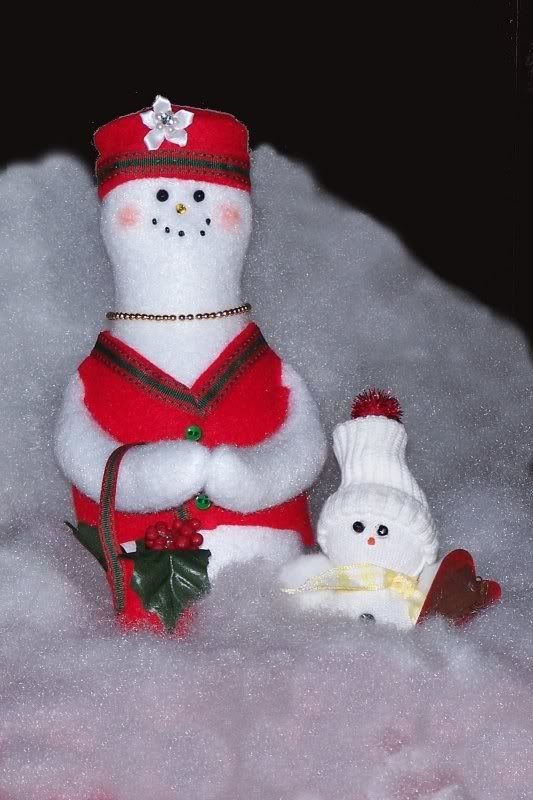 Ok, the rest of these youve already seen in a previous post, but these are the ones I made for this swap, for some gifties and for a couple one on one swaps..
Thanks to all of you who joined this swap! another successful snowstorm completed! Now I'm off to finish those 9 bears!! will post pics tomorrow!